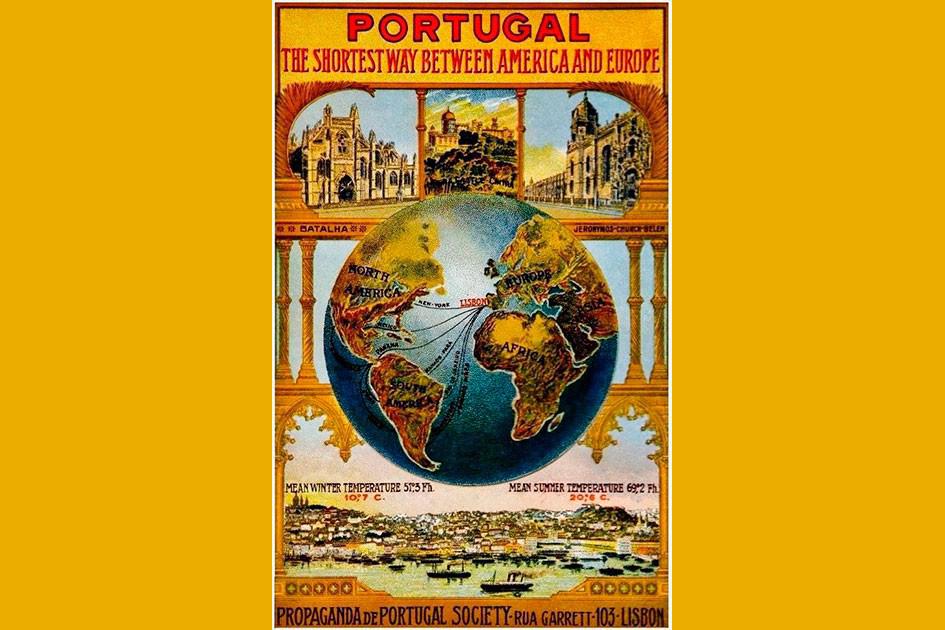 July 2, 2020
"Portugal: the shortest way between America and Europe"
---
At a time when world tourism faces enormous challenges, we felt like taking a little trip back in time and going back to the beginnings of tourism promotion in Portugal. "Portugal: the shortest way between America and Europe" projected Portugal in the world and in the international tourism routes, back in 1907. A simple but effective message, highlighting some of the most iconic monuments of the Portuguese heritage and highlighting its strategic geographical position of proximity between continents. This was the very first Portuguese advertising poster, published by the newly created Portugal's Propaganda Society, a private association founded in 1906 by an entrepreneurial group from the Lisbon bourgeoisie. This entity contributed, in a clear way, to the first steps of the launching of Portugal as a tourist destination, carrying out a bold program of modernization of the country by increasing and promoting tourism activities.
Back in the present and in the challenging times we live in, Portugal continues to represent a privileged tourist destination, with an extraordinary diversity of natural landscapes in a small-sized country. Traveling short distances, we move from long stretches of wild coast to impressive mountains with abundant vegetation or natural estuaries and never-ending plains. Traveling short distances on comfortable and safe roads, we discover its enormous regional gastronomic richness, the diversity of its wine regions, the generosity of its traditions, the grandeur of its heritage and the authenticity of its history and culture.
Portugal is a safe and peaceful destination, which continues to welcome everyone as it has always been: with genuine and warm people who are always with a smile on their faces and a true spirit of sharing. We know that the world needs this tourism, which is an encounter of cultures, the discovery of the other, the opening of horizons and constant learning. And we know that, responsibly and always with the guarantee of safety as a priority, we will return here in the very near future. Because traveling is part of us and our essence and the world is not the same without the happiness of sharing it. This is the truth, the world is part of us.
Image: Google Images - Sociedade Propaganda de Portugal